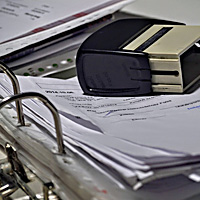 When you first decide to outsource the bookkeeping and accounting services for your business, it can be a bit overwhelming locating the right company to perform your financial paperwork. Today, there are so many companies from which to make your selection, and all of them boast that they are the best ones. Luckily, we are here to provide you with valuable tips on how to select a company to perform your accounting and bookkeeping tasks in a quality manner.
1. Decide what tasks you need to outsource to an outside company since each one will have its own list of specialties. Search for the professional firm that has the expertise in your specific needs. For example, you may require the company to enter all your sale invoices or receipts, but not handle your payroll duties.
2. Ensure that the company will assist you in setting up and learning a computer accounting system for your business to help organise the information on your end. In addition, ask to see an example of what the software will and will not do for your company before you install it on your computer system.
3. Inquire about the training of the company's personnel that will be handling your bookkeeping and accounting services. All the professionals dealing with your services should be certified public accountants of CPAs.
4. Discover if the company works with both small and large businesses since this shows how vast the company's capabilities are to assist you. If it only deals with small entities, it may point to a lack of expertise on the company's part.
5. The bookkeeping company that you decide to hire should have strict security measures enacted to safeguard all your information. After all, the last thing your business needs is someone hacking into your financial records.
6. You also need the company to be conveniently located to your business. Meeting in person will be easier to do when this is the case.
7. The accounting and bookkeeping company should provide you with periodic updates on the financial standing of your business in case you need to enact any changes to increase the bottom line.
8. Ensure that an agreement or contract that the company requires you to sign is fair and holds no surprises. The company should charge competitive rates for all services and provide you with a guarantee of all its services.
Follow our tips, and you will discover the best company to provide your company with bookkeeping and accounting services. Do not skimp on research since the financial future of your company is on the line. Please include Bookkeeping Partners in this quest as we provide top-quality services.