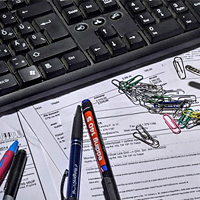 A business will find it difficult to be successful without accurate accounting and bookkeeping procedures put in place. Procedures such as these help track the incoming sales and payments, payments for stock and other expenditures, employee payroll and payroll taxes, additional taxes and other pertinent financial information. In addition, the management of the business will receive monthly reports on the financial status of the company in order to analyse the profitability of the business or to catch where management needs to improve certain areas to increase revenue.

Benefits of Monthly Reports
Whether you are a manager, owner or owner/manager of a company, you will reap the following benefits from receiving monthly reports on the financial happenings of your company.
1. You will be able to monitor the sales of your company closely to ensure that the money they bring in is enough to cover outgoing expenditures hopefully with additional profit. On top of this, you will learn if sales are up or down from last month or last year at this time. Maybe the company should place priority on increasing sales.
2. Another benefit that you will reap is the ability to compare this year's growth to the growth of years past. You will be able to learn if your company is meeting your business projections for it.
3. Accurate financial records and reports are necessary to apply and receive loans for additional operating capital. Without accurate accounting and bookkeeping on your company's part, financial institutions will deny the company's loan applications.
4. Monthly reports allow you to head off issues when you notice a downward pattern in sales. Times such as these call for economising in all areas of the company even if it is only temporary. You may not need to react drastically just analyse where you can lower your expenditures until sales increase once again.
5. Proper bookkeeping and accounting practices enable the company to keep up with its tax and GST obligations. Yearly tax returns for the company must be accurate to prevent auditing, taxes are continually due on payroll, property taxes are another responsibility when your company owns its building, and depending on the size of your business, you may also need to report business activities either monthly or quarterly to the ATO.
The list above includes the primary ways that accounting and bookkeeping go hand in hand with a successful business. When you find that your company requires expert help with both of these tasks, consult with Bookkeeping Partners to learn what services we will supply your business since we are experts in all aspects of bookkeeping and accounting for commercial entities.