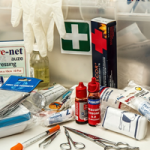 With the constant changes in the retail pharmaceutical industry and increased competition from the many discount groups, it is more important than ever to ensure that independent pharmacies are financially prepared for the future.  By having your accounts prepared weekly or monthly by a pharmacy bookkeeping specialist, you will always have your numbers at hand to evaluate your pharmacy's financial health

Pharmacy Bookkeeping and Accounting Services in Melbourne
Bookkeeping Partners specialises in Pharmacy Bookkeeping and Payrolls and offers affordable pharmacy bookkeeping and accounting services in Melbourne and around Australia.
Bookkeeping Partners employs full time staff in their Melbourne office who are focused on the pharmacy business.  We have been doing it for so many years and understand the challenges that Pharmacy owners face each day.  Imagine having a team of dedicated bookkeepers who works for your business, processing your payrolls, paying your bills, monitoring your cashflow and lodging your BAS ensuring that you get the refunds in your bank.
We have built up the Pharmacy Bookkeeping team to offer you affordable bookkeeping and accounting Services to Pharmacists in Melbourne and around Australia.
How Bookkeeping Partners Helps Pharmacies
Bookkeeping Partners is your partner in running a profitable pharmacy business, and that is our goal. Like any business, accountancy is paramount to track products, services and expenses, so that at the end-of-the-day, there is profit after all expenses and taxes are deducted.  It is a simple goal, but geared specifically towards the pharmaceutical sector.
Our key goal is to create a trusted partnership with your pharmacy business and ensuring that your business is up to date, all your numbers stack up and your bottom line is thriving, so you and your staff can focus on providing the best services to your customers.  Bookkeeping Partners provides guarantee record keeping, accounting correctly for your GST claims, maintaining your compliance with payroll liabilities such as superannuation, PAYG withholding and payroll tax.  We provide monthly reporting of your management accounts and assist you with the requirement of bank covenant and alerting you of any non-compliances as required.
As a professional accounting and bookkeeping firm, we offer accounting software support and training specially tailored to meet the needs of the pharmaceutical industry. We give you peace of mind, while you operate your professional business knowing that expert bookkeepers who understand the various tax laws of your industry are on the job.
For more information about Bookkeeping Partners' affordable pharmacy bookkeeping and accounting services in Melbourne, and how our pharmacy accountants can help you with your bookkeeping, payroll and BAS lodgements, we invite you to contact us today.