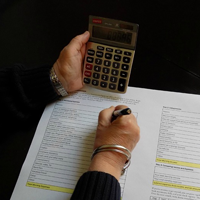 Not so long ago, businesses and busy individuals could use a desk or kitchen table to manage their business affairs and to balance their monthly bills, but in this ever changing and very busy world today, much of what is done in business and in home financial affairs now-a-days is accomplished 'online'.
Actual paper work and documents are disappearing, and electronic files and documents are taking their place, which is good for the environment, but it is a challenge to keep-up with all the changes take place in record keeping and in filing documents and taxes.
Many people and business are opting to turnover their old paperwork and filing systems to someone who is abreast of all the current changes that technology has brought these last few decades to professional bookkeeping and accounting services, like Bookkeeping Partners.
Outsourcing Your Bookkeeping and Accounting Services
Deciding to outsource accounting services is often a blessing in disguise, especially to unwilling small business owners that have done the company's books for years. A professional bookkeeping service can free up much time for business owners, and it ensures that all laws are met and filings and financial statements are done properly, which is a load of worry and concern off the back of most business people. However, knowing what to look for in a bookkeeping and accounting service is important for your business.
Saves Time – The number one reason why business outsource accounting and bookkeeping services is simple – to save time. So, when deciding to outsource, finding an efficient accounting service that will save you time, and one that will meet all your business' filing and tax deadlines is paramount; next too transparency.
Transparency – Bookkeeping should be completely transparent, straightforward and records kept in an orderly fashion, so that anyone could easily read and understand them.
Improve Cash Flow – A good bookkeeping and accounting firm will know how to optimise your cash flow, and then structure your outlays of cash so that it doesn't bind your company's ability to operate efficiently.
Basically, when deciding on outsourcing bookkeeping and accounting services, you want to find accountants that know what they are doing, and do 'it' well. So, if you are feeling overwhelmed with bookkeeping work and stressing over payment deadlines, then you need a helping hand; a partner – Bookkeeping Partners.