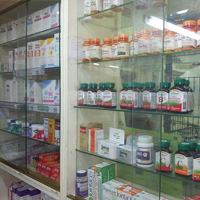 Owning a pharmacy business can be both challenging and rewarding at the same time.  The pharmacy owner not only have to face the many challenges of managing a business but also have to keep abreast of the changes in regulations which may have impact on their pharmacy profitability.
The job of the pharmacy owner is to ensure that all the current practices and regulations are adhered to.  This very important industry requires stringent measures to keep medicine and everything else in check. Some drugs may have restrictions because they are either dangerous or otherwise unfit for general use without sanctioned prescription, labeling and recording these correctly is a serious concern. The sheer number of drugs and transactions that a single pharmacy undertakes per day can make record keeping confusing and something of an impossible task, if done without the help of specialised dispensing software.
Specialised pharmacy bookkeepers understand the pharmacy business and the challenges that pharmacy owners face daily.  If you're running a pharmacy, or you are part of a pharmaceutical team, and want to keep everything accounted for, then it is advised to avail of professional bookkeeping services for pharmaceutical businesses.
What can Professional Bookkeeping Services for Pharmaceutical Businesses do?
Bookkeeping for pharmacies may not seem like a necessity for pharmacy owners and managers, but in a medical industry that attempts to manage several goings-on in a short period of time, keeping all the finances and transactions on a short and precise leash is paramount to ensuring profit, accurate payroll and excellent customer service.
Bookkeeping services for pharmaceutical services not only guarantees that you know exactly where the day or the month's overall earnings go, but that all earnings and stocks are accounted for, and that all items dispensed are then recorded properly, and securely. Professional bookkeeping does this – ensures that everything is kept in check and nothing is unaccounted.
In the pharmaceutical world, which can be rife with bargains and fluctuating prices on medicines, hiring a bookkeeper ensures that a pharmacy doesn't lose money when prices for drugs vary from supplier to supplier. In this way, a bookkeeping service can literally save a pharmacy money, and provides integrity, transparency and organizational stability you can trust. All of these benefits are the cornerstone upon which all businesses thrive.
If you are looking for a professional bookkeeper that understand pharmacy award rates for pharmacy employees, ATO benchmarks and compliance as well as bank covenant requirements for pharmacy businesses then it is better to engage the service of pharmacy bookkeeping specialist who deal with pharmacy businesses such as Bookkeeping Partners.
Contact Christine Owng at Bookkeeping Partners for a discussion  on how she can help your pharmacy business be financially prepared for the future.