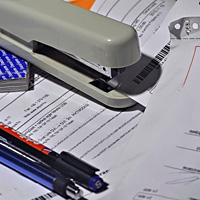 How accurately you monitor the company's cash flow may determine the difference between failure and success. One way to perform this task effectively is to hire a professional company to provide expert bookkeeping and accounting services to your business. A company such as this sends experts to your business to handle all your financial paperwork from logging in sale invoices and receipts to managing payroll and payroll taxes for your business. When you are in the Murrumbeena area of Australia, turn to our company of Bookkeeping Partners for these services to help you watch over your cash flow in the ideal manner.
How We Help Keep Track of Your Cash Flow
We record all sales and purchases to ensure you always understand how much money is coming in and how much is going out of the business. You can better analyse your financial situation. At times, you may need to either cut back on purchases or increase sales to cover necessary purchases. With our accurate record keeping in these areas, you will be able to learn your situation at a glance. If you deal with unpaid sales in your business, we also will help you collect outstanding debts.
Our experts will ensure that your credit card and bank statements are correct. You must always understand the exact balance in your business account at all times to prevent unexpected shortages. Never pay a credit card statement without it being correct.
We track all GST liabilities and income. All GST liabilities should be paid in accordance with government regulations, and businesses must accurately record all income. In addition, we organise all your company's paperwork to where you can access it quickly in a non-confusing manner.
Our company takes care of all payroll tasks, including taxes, leave accruals and superannuation details. At a moment's notice, we can tell you the totals to all these figures for all necessary paperwork you may need to perform on your end.
Our experts will update you constantly on the cash flow in and out of your business. By doing this, you will be able to monitor your business cash flow as closely as necessary. Another benefit to hiring our company is the fact that we specialise in all areas of bookkeeping on a higher level than employees do if you hire ones full-time in your business. We are familiar with all sorts of business issues with financial matters and can advise you when your business should improve its incoming cash flow.
Rely on Bookkeeping Partners for your bookkeeping and accounting services to ensure that you monitor your business cash flow in the proper manner. Though this, you will increase the level of success that your business will reach in the near future.