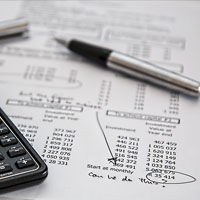 The phrase 'pay your taxes promptly on time' is never received with a warm welcome, especially for business owners and most people with large families who have ever tried to calculate all their expenses on their own, without prior business experience, knows it's a chore. It is understandable, especially when crunching numbers and calculating figures isn't exactly everyone's 'cup of tea'.
Still, there is a dire importance to proper tax computation, and while not all of the general populace possess the skills, understands all of the tax laws or knows all the forms to file, and when, it is obvious why people seek professional bookkeeping and accounting services to maintain their books and prepare their taxes for filing.
Fortunately, professional bookkeepers and accountants know exactly how to compute taxes efficiently, and flawlessly.
Avoiding Problems with Proper Tax Computation
One of the most frequent errors that business owners do make is trying to calculate their own taxes, without knowledge of all the law pertaining to them, and their business. It's a sad truth, missed details can cost a family hundreds and businesses thousands of dollars in late fees, unreported deductibles and other accounting requirements.
Thankfully, bookkeeping and accounting services make sure that such mistakes are avoided and that you are spared the stress, headache, and trouble that come with improper tax computation. This is exactly why precise tax documentation matters so much.
By hiring proven, expert bookkeeping and accounting services from Bookkeeping Partners, you can breathe easy knowing that you have professionals on your side helping you every step of the way. Our seasoned staff will ensure that nothing is overlooked and that the possibility of any oversight, regarding your taxes, is checked thoroughly and your books balance out as they should.
When it comes to taxes, especially in regards to businesses, the importance of proper tax computation can't be overstated, because mishaps can cause you to pay less now, and then later discover you own a considerable amount unexpectedly. Or, you may be paying more than you should by accident, and then never get reimbursed.
If you're looking for some professional help with recording purchase payments, reconciliation of your credit card and bank statements, setting up a new filing system to help you keep all your business records in order, or any payroll keeping and payroll taxes advise, then call us today, we can help.